SACRED HEART OF THE WORLD
A wearable shrine to the Sacred Heart of the World, mystical Jesus.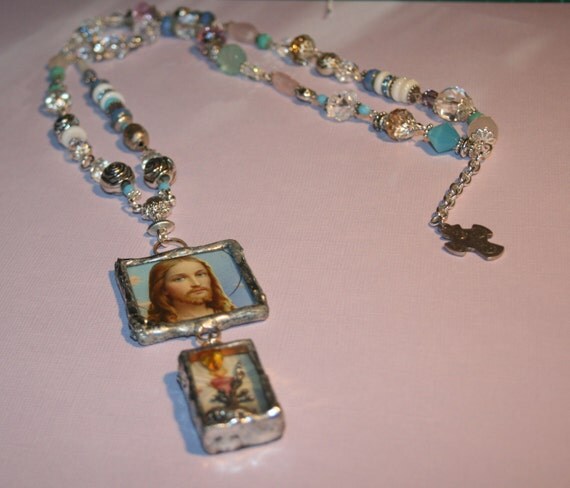 A hand soldered shadow box in two parts : the top one is 1.5 inch x 1.5 inch and the bottom half is 1 inch by 1.5 inch. The length of the rosary is 18.5 inches without the dangle at the back.
Both shadowboxes contain a piece of a holy card and the bottom one contains a hand cast sterling silver sacred heart. The beaded rosary contain many different rose beads, sterling silver beads, rose quartz, milky quartz, pure silver beads from india, mother of pearl and glass beads. A sterling silver four way cross hang at the end of the dangle at the back of the rosary, just to finish it off.
Each one of my pendants, shrines, paintings and other sacred art are first infused with holy water from Lourdes (which I brought back), and then infused with holy relic oil of more than 53 Saints & pure essential oils. A mixture of one hundred oils are used, including frankincense, myrrh, spikenard, agarwood and rose. It is also immersed in blessed pink dead sea salts, infused with rose petals steeped in holy oil of a third relic of St Therese of Lisieux and it is packaged with blessed salts, frankincense and sprinkled with holy water collected form many sacred places in the world. So it becomes sort of holy object to be handled with reverence and care.
You can read about my pilgrimages to holy places of all cultures and religions across the world on my blog The Path of Divine Love.
You can see more pictures on my blog at http://hergracedevata.blogspot.com/2013/10/the-sacred-heart-of-world.html
I ship free worldwide with tracking and registered airmail. All my items are beautifully packaged and sprinkled with blessed salts and water from Lourdes
USD 150.00
ZAR1500 If you want to pay in South African Rands, kindly email me at
hettienne@telkomsa.net